Instant Zazzle Pro Advanced Starter Bundle
Add The Comprehensive Guide to Marketing and Promoting Your Zazzle Products to the Hit the Ground Running Starter Bundle for Prospective Zazzlers and learn How2 get your products in front of prospective buyers through Facebook, Twitter, Pinterest and othe
Item details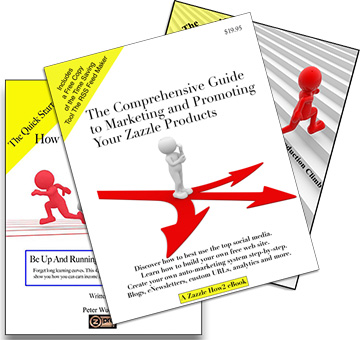 Instant Zazzle Pro Advanced Starter Bundle
Add
The Comprehensive Guide to Marketing and Promoting Your Zazzle Products
to the
Hit the Ground Running Starter Bundle for Prospective Zazzlers
and learn How2 get your products in front of prospective buyers through Facebook, Twitter, Pinterest and other online media. Step-by-step details will have you marketing and promoting quickly.

Includes our handy tool The RSS Feed Maker. Save $7.90 over the unbundled prices.
Affiliates
Like this product?
Spread the word about it and earn 40.00% of the purchase price on sales you refer.
Join our affiliate program