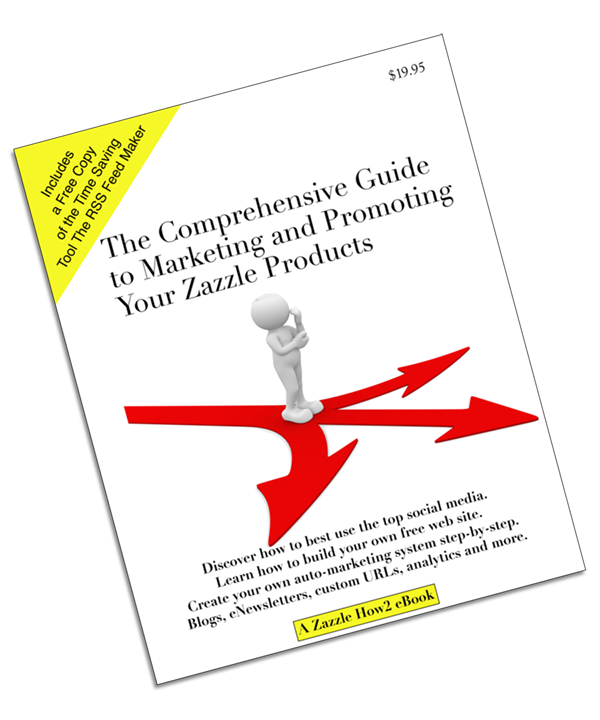 Not long ago, Zazzle switched gears, making a major strategy change which emphasizes "promote and improve your existing products" instead of "design lots of products". You can see it in their MarketPlace policies such as hiding any product that has not had a view or update in 15 months. Both Zazzle Chat and Zazzle Blog topics overwhelmingly encourage you to promote, market and refer Zazzle products.
We began this eBook nearly a year ago after frequent requests from the many purchasers of our other How2 eBooks. The frequent refrain was "If you do a book on marketing, I will buy it".
The first step was to survey our book buyers, Twitter followers and Facebook friends what kind of help they needed. Their answers were all over the board . . . web sites, social media, blogging and RSS feeds. Some wanted help using Zazzle promotional tools or simply posting their products to the Zazzle forum.
This eBook covers all that and more in its 100+ pages. It truly is comprehensive.
You will learn step-by-step how to create free or nearly free online promotional sites and powerful ways to use the most popular social media to generate views and sales.
This eBook is for marketing beginners who want to get started marketing their Zazzle products. It is also for early intermediates who want to broaden their current efforts.
Who Should Buy This
Don't Buy This If You:
1. Have already set up promotional websites,
2. Use a system to automatically post Zazzle products to social media,
3. Use a blog to help generate views and sales,
4. Stay in touch with prospective buyers through eMail/eNewsletter marketing,
5. Have a monthly referral and volume bonus income you are happy with,
6. Don't have the time to promote your work,
​7. You are not Zazzling to make money.
However, Do Buy This If You:
1. Want to see your products move up in the Zazzle MarketPlace,
2. Need to add new income streams of referral and volume bonus fees,
3. Are anxious to start promoting your work and don't want long learning curves,
4. Know you need to start marketing but don't know how to begin,
5. Would like increased royalty fees.
Much as in life, there are no guarantees in marketing, but you've seen the results when you do little or nothing. The Comprehensive Guide to Marketing and Promoting Zazzle Products will give you the information, examples, links and images to effectively jumpstart your marketing programs.

RSS feeds are the secret to building auto-posting systems to your social media accounts and elsewhere. Included with your purchase of The Comprehensive Guide is our new time-saving tool The RSS Feed Maker. It is an Excel based workbook that will have you creating promotional error free RSS feeds in minutes. A wonderful FREE must-have timesaver and a $2.99 Value.
Learn more with the "Home Page" link above.